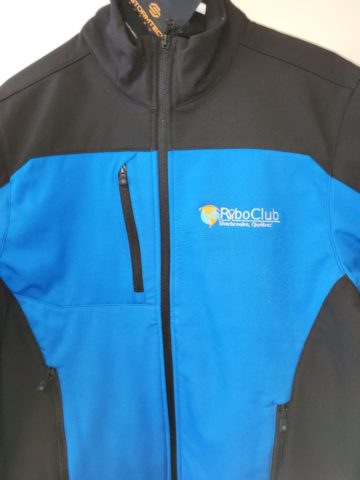 The Blue Jacket Award is the RiboClub's highest recognition for service by RNA scientists to the Canadian RNA community.
It recognizes sustained and impactful contributions that have strengthened the RNA community and helped it to better achieve its goals in RNA research and education.
Awardees participate as members of the RiboClub's Scientific Advisory Board.
The award is conferred at the RiboClub's Opening Session in September.
Poster Prizes
YEAR
AWARDEES

2022

First Prize - Moderna: Daniel Moses (1000 CAD)
McGill University
The RNA ligation mechanism of post-transcriptional editing in kinetoplastid parasites

First Prize - CRCHUS: Victoire Fort (1000 CAD)
Université Laval
Unravelling the function of Tapir lncRNA in regulating pluripotent cell states

Second Prize - CRCHUS: Yihang Chen (750 CAD)
University of British Columbia
Pretty Sly for a White Fly: Investigating an Atypical Viral Internal Ribosome Entry Site in a Novel Positive-strand RNA Virus

Third Prize - CRCHUS: Laurence Faucher-Giguère (500 CAD)
Université de Sherbrooke
H/ACA snoRNAs Promote Tumour Invasiveness Through the Modulation of rRNA Modifications

Microtalk: Tithi Ghosh (350 CAD)
Université de Sherbrooke
The lysC riboswitch as a regulatory nexus

Public Choice: Tyler R. Henderson (350 CAD)
University of Toronto
Tubby, a protein associated with obesity and retinitis pigmentosa, regulates RNA trafficking

2021

First Prize: Jibin Sadasivan (500 CAD)
University of British Columbia
A viral protein disrupts stress granule assembly by modulating RNA export

Second Prize: Noémie Mercier (300 CAD)
Université de Strasbourg
Characterization of the interactions between icaR mRNA and regulatory RNAs in Staphylococcus aureus

Third Prize: Maxime Duval (200 CAD)
Université de Sherbrooke
Co-transcriptional control of ribosomal RNA synthesis by the conserved RNA-binding protein Seb1

2020

First Prize:Simon Boudreault (800 CAD)
Université de Sherbrooke
Oncolytic reovirus' μ2 protein governs modulation of cellular alternative splicing during infection and interacts with splicing factors and spliceosomal proteins

Second Prize:Monica Pillon (600 CAD)
National Institute of Environmental Health Sciences, NIH
Cryo-EM Reveals Conformational Heterogeneity of the SARS-CoV-2 Endoribonuclease Nsp15

Third Prize: Michelle J. Chen (400 CAD)
Lady Davis Institute for Medical Research
Assessment of Antiviral shRNAs Produced from Type 3 RNA Polymerase III Promoters on HIV-1 Production

Microtalk:Monica Pillon (600CAD)
National Institute of Environmental Health Sciences, NIH

2019

First Prize:Monica Pillon (1000 CAD)
National Institute of Environmental Health Sciences, NIH
Active Site Coordination Within a Multienzyme pre-rRNA Processing Complex

Second Prize:Simona Patange (500 CAD)
National Cancer Institute, Bethesda and University of Maryland-College Park
A living, single cell view of MYC's effects on transcription

Third Prize: James Dhaliwal (300 CAD)
Concordia University
A substrate for translation quality control and mRNA decay localizes to a novel RNA granule in yeast

Public Choice:Bridget Begg (200CAD)
Massachusetts Institute of Technology
Motifs of intermediate affinity enable concentration-dependent regulation by Rbfox in development

2018

First Prize: Mustafa Malik Ghulam (1000 CAD)
Université de Sherbrooke, Canada
Specialized ribosomal proteins promote drug resistance through modulation of translation

Second Prize: Nathalie Reid (750 CAD)
Université Concordia, Canada
Characterizing the gene products of cca1 and cca2 in the yeast Schizosaccharomyces pombe

Third Prize: Joël Simoneau (500 CAD)
Université de Sherbrooke, Canada
RNA-seq quantification is gene annotation dependant – A graph-based analysis

Public Choice: Joël Simoneau (350 CAD)
Université de Sherbrooke, Canada
RNA-seq quantification is gene annotation dependant – A graph-based analysis

2017

First Prize: Subramania Suryasree (1000 CAD)
Université Laval, Canada
Sam68 interacts with spliceosomal U1 snRNP by its tyrosine rich C-terminus

Second Prize: Eunice C. Chen (750 CAD)
Penn State College of Medicine, USA
Imaging techniques to visualize RNA events in the retrovirus replication cycle

Third Prize: Rachel Jodoin (500 CAD)
Université de Sherbrooke, Canada
A 5'UTR RNA G-Quadruplex structure affects the translation of BAG-1, an mRNA involved in colorectal cancer

Public Choice: Stefan Reber (350 CAD)
University of Bern, Switzerland
A Toolbox to Elucidate Selective Motor Neuron Death in Amyotrophic Lateral Sclerosis

2016

First Prize: Marie-Claude Carrier (1000 CAD)
Université de Sherbrooke
Interplay between the chaperone Hfq and two sRNAs dictates regulation of oppA mRNA in E coli

Second Prize: Rachel Jodoin (750 CAD)
Université de Sherbrooke
The G-Quadruplex Translation Regulation of BAG-1: an mRNA involved in Colorectal Cancer

Third Prize: Amanda Charlesworth (500 CAD)
University of Toronto
The Long and the Short of it: Dissecting the Differential Functions of the Argonaute CSR-1 throughout C. elegans Development

2015

First Prize: Ashley Chin (1000 CAD)
IRCM
Defining the role of mRNA localization in regulating epithelial cell polarity>/em>

Second Prize: Adrien Chauvier (750 CAD)
Université de Sherbrooke
Folding and regulation mechanism of the thiC riboswitch

Third Prize: Pauline Adjibade (500 CAD)
Université Laval
Formation of stress granules by tyrosine kinase inhibitors

2014

First Prize: Marie-Claude Carrier (750 CAD)
Université de Sherbrooke
New role for prokaryotic "junk" RNA : identification of a sRNA sponge

Second Prize: Jennifer Chu (550 CAD)
McGill University
Probing the mechanism of action of Silvestrol through genetic engineering of a eIF4A allele

Third Prize: Cedric Belair (350 CAD)
Yale University
The RNA exosome in human embryonic stem cell function: beyond the RNA degradation machinery

2013

First Prize: Laure Newburn (800 CAD)
York University
RNA Structures and Interactions Required for Translational Readthrough in Tobacco Necrosis Virus

Second Prize: Laurène Bastet (500 CAD)
Université de Sherbrooke
When the small RNA OmrB meets the CoB12 riboswitch

Third Prize: Matthew W.L. Lau (350 CAD)
NHLBI, NIH
Evolution of an alternative catalytic strategy and metal ion specificity from the coenzyme-dependent glmS riboswitch-ribozyme

2012

First Prize: Karine Boulay (800 CAD)
Université de Montréal
The RNA binding protein Staufen1 is regulated by post-translational modifications

Second Prize: Mathieu Lavoie (500 CAD)
Université de Sherbrooke
A new motif defines the sequence specificity of the yeast RNase III

Third Prize: Joseph Perera (350 CAD)
Ottawa University
Cancer cells harness a switch in translation initiation for tumerogenesis

2011

First Prize: Lara Ajamian (1000 CAD)
Adrew Mouland Lab / McGill University
UPF1: La CRM de la CRM of HIV-1 vRNA export

Second Prize: Hubert Salvail (500 CAD)
Eric Massé Lab / Université de Sherbrooke
The small RNA RyhB activates the translation of cirA mRNA encoding a colicin I receptor

Third Prize: Maxime Simoneau-Roy (500 CAD)
Daniel Lafontaine Lab / Université de Sherbrooke
The thiB riboswitch of E. coli: a trans-acting riboswitch?

2010

First Prize: James Uniacke (1000 CAD)
Stephen Lee Lab / University of Ottawa
Epidermal growth factor receptor translation is regulated by oxygen via HIF2a

Second Prize: Julie-Anna Benjamin (500 CAD)
Eric Massé Lab / Université de Sherbrooke
A new mechanism of mRNA protection against sRNA-induced degradation

Third Prize: Krishna Kannan (500 CAD)
Alexander Mankin Lab / University of Illinois
The mechanism of macrolide action: how accurate are the old paradigms ?

2009

First Prize: Hubert Salvail (2000 CAD)
Eric Massé Lab / Université de Sherbrooke
The small regulatory RNA RyhB is essential for siderophore production in E. coli.

Second Prize: Mathieu Lavoie (1000 CAD)
Sherif Abou Elela Lab / Université de Sherbrooke
CUT and CHIP: A New Approach for the Identification and Characterization of Decay Signals

Third Prize: Guillaume Desnoyers (500 CAD)
Eric Massé Lab / Université de Sherbrooke
Small RNA-induced differential degradation of the polycistronic mRNA iscRSUA

Fourth Prize: Bobbijo Sawchyn (500 CAD)
Yingfu Li Lab / McMaster University
Using RNA expression in the identification and characterization of gcd, a toxic peptide in Escherichia coli

2008

First Prize: Ghada Ghazal (1000 CAD)
Sherif Abou Elela Lab / Université de Sherbrooke
Yeast RNase III suppresses the expression of aberrant RNA by mediating polyadenylation independent torpedo termination

Second Prize: Hubert Salvail (500 CAD)
Eric Massé Lab / Université de Sherbrooke
Induction of siderophores in E.Coli: the small RNA RyhB activates both the enterobactin synthesis and the shikimate import pathway

Third Prize: Mathieu Lavoie (300 CAD)
Sherif Abou Elela Lab / Université de Sherbrooke
Characterization of the stem-loop requirements for yeast RNase III binding and cleavage

2007

First Prize: Guillaume Jannot (1000 CAD)
Martin Simard Lab / Université Laval
A potential partnership between microRNA and the ribosomal machinery factors

Second Prize: Catherine Olivier (500 CAD)
Pascal Chartrand Lab / Université de Montréal
She2p is implicated in cell development through proper mRNA localization in daughter yeast cells

Third Prize: Ghada Ghazal (300 CAD)
Sherif Abou Elela Lab / Université de Sherbrooke
RNase III regulates the expression of polycistronic RNA in yeast

2006

First Prize: Nicolas Paquin
Pascal Chartrand Lab / Université de Montréal
Yeast casein kinase activates the translation of the bud-localized ASH1 mRNA via phosphorylation of the eIF4G-binding protein Khd1p

Second Prize: Audrey Dubé
Jean-Pierre Perreault Lab / Université de Sherbrooke
Identification of proteins interacting with Peach Latent Mosaic Viroid RNAs

Third Prize:
Luc Furic
Luc Desgroseillers Lab / Université de Montréal
Identification of the Staufen1-binding Motif in mRNAs

Mélina Arguin
Eric Massé Lab / Université de Sherbrooke
Hfq RNA chaperone predetermines mRNAs targeted by a small regulatory RNA

Marie-Éve Boisverst
Martin Simard Lab / Centre de Recherche en Cancérologie de l'Université Laval
Playing with the small RNA pathways

Karine Boulay
Luc Desgroseillers Lab / Université de Montréal
Characterization of the association between Stau1 and ribosomes

Samuel Dugré-Brisson
Luc Desgroseillers Lab / Université de Montréal
Interaction of Staufen1 with the 5' end of mRNA facilitates translation of these RNAs

Casey Fowler
Yingfu Li Lab / McMaster University
Identification of the Staufen1-binding Motif in mRNAs

2005

Ihor Batruch
Philippe Johnson Lab / York University
NMR and thermodynamic characterization of the binding of a novel inhibitor to DHFR

Karine Boulay
Luc Desgroseillers Lab / Université de Montréal
Characterization of the association between Stau1 and ribosomes

John Calarco
Benjamin Blencowe Lab / University of Toronto
Characterization of nSR100, a novel neuronal-specific SR-related protein

Philippe Cloutier
Benoit Chabot Lab / Université de Sherbrooke
Characterization of a splicing enhancer element that enforces the production of the anti-apoptotic protein Bcl-xL

Samuel Dugré-Bisson
Luc Desgroseillers Lab / Université de Montréal
Interaction of Staufen1 with the 5'end of mRNA facilitates translation of these RNAs

Casey Fowler
Yingfu Li Lab / McMaster University
Selection for functional riboswitches from partially random libraries within a bacterial system

Grégory Léon
Paul Roy Lab / Université Laval
Study of a Group II class C intron within the chromosomal integron of Nitrosomonas europaea: potential role in casette formation and integron evolution

Razvan Nutiu
Yingfu Li Lab / McMaster University
A DNA/Protein enzyme nanoengine for 'On-demand' release and precise delivery of molecules

Rade Sajic
Alan Cochrance Lab / University of Toronto
Strategies to control HIV-1 replication

James Uniacke
Bill Zerges Lab / Concordia University
mRNA localization for thylakoid membrane biogenesis and repair

2004

Dongling Ge
Sherif Abou Elela Lab / Université de Sherbrooke
Defining yeast RNaselll's role in the turnover of mRNAs involved in glucose metabolism

Mélissa Léger
Léa Brakier-Gingras Lab / Université de Montréal
Interaction between the ribosome and the frameshift stimulatory signal of the human immunodeficiency virus type 1 (HIV-1)

Jean-François Lemay
Daniel Lafontaine Lab / Université de Sherbrooke
Structure-function studies of the adenine riboswitch associated with the ydhL gene of Bacillus subtilis

Razvan Nutiu
Yingfu Li Lab / McMaster University
In Vitro selection of structure-switching aptamers

Nicolas Paquin
Pascal Chartrand Lab / Université de Montréal
Khd1p regulates the translation of the bud-localized ASH1 mRNA through its interaction with elF-4G

Gilles Robichaud
Jean-Pierre Perreault Lab / Université de Sherbrooke
Functional evaluation of the human Pax-5 isoforms using a delta ribozyme-based technology

Karen Yam
Benoit Cousineau Lab / McGill University
Lactococcus lactis live vaccines against leishmaniasis

2003

John Achenbach
Yingfu Li Lab / McMaster University
Two proficient self-phosphorylating deoxyribozymes with different secondary structures

Jason Aulds
Mark Schmitt Lab / Upstate Medical University
RNase MRP: Roles in cell cycle regulation and Cartilage-hair Hypoplasia

Éveline Clair
Imed Gallouzi Lab / McGill University
HuR plays a role in maintaining normal stress and apoptosis responses

Stéphanie Larose
Sherif Abou Elela Lab / Université de Sherbrooke
Two promoters for the yeast telomerase RNA

Mélissa Léger
Léa Brakier-Gingras Lab / Université de Montréal
Characterization of the interaction between the bacterial ribosome and the frameshift stimulatory signal of the human immunodeficiency virus type-1

Shirley Hsin-Ju Mei
Yingfu Li Lab / McMaster University
Secondary structural determination of a fluorescence signaling DNA enzyme